My group is beginning our long awaited Call of Cthulhu campaign this Thursday. To that end I have decided to elicit any advice those more knowledgeable (just about everyone) might have on the subject.
I've done some prep to get geared up for said campaign. I've read a bit of Lovecraft (not my favorite writer to be honest), some Mythos fiction by other writers, got and plan to play Arkham Horror tonight (woot!), and looked over the rulebook (6th edition is what we are playing) for Chaosium's CoC system as well as the Miskatonic University book (we are playing student investigators).
Even with all that though I still don't feel like I know everything I need to know. That's where you come in! Here are some questions/issues I have.
These guys looked screwed. I'm hoping to avoid this.
1. How to I maximize PC survivability?
I enjoy games where the same cast of characters sticks around for most if not all of the campaign. The long running bonds between characters and the trails they make it through together is one thing that keeps me coming back week after week in most games. That having been said, I keep reading that CoC isn't a game with a great survivability rate... so how do I maximize PC survivability?
2. What type of skills will prove the most useful?
As I stated above, we are playing matriculating freshmen at Miskatonic University so we don't really get a whole lot skill point to work with. I want to make sure I use mine on skills that I'll actually use, so what are some good useful skills?
3. What are some common pitfalls for new/inexperienced players?
Obviously I'm not going to take a swim looking for the city of
R'lyeh
, but what are some common missteps people have encountered?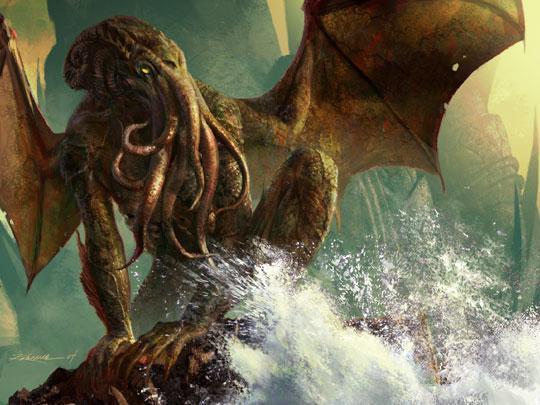 Watch out for this guy... check!
4. What are some good ways of preserving sanity?
I've heard that becoming insane is just as big a danger as dying, so what steps can be taken to help prevent that? Should ancient tomes be avoided at all cost? I've heard those can be dangerous.
5. How much combat can I expect?
There see to be a number of combat related skills in the game, but the game doesn't seem like it focuses on combat. Are these skills worth investing in, and how much fighting can I really expect in CoC?
6. I rolled some pretty pedestrian stats
Which stats would everyone say is the most important? My best stat by far is intelligence (14) my worst is Con (8).

7. Got any other tips I should know?
I'm not sure what else to ask, but I'm sure there is more good advice to be had!
This will be a first for everyone in the my group. Though I have limited knowledge of the Mythos and the game itself, I would certainly categorize myself as both excited and enthusiastic. There are high expectation from every member of the group this game is going to be one to remember. Any help you can offer to ensure that we are right would be much appreciated!
If you can't beat em, join em?
This entry was posted on Tuesday, January 11, 2011 at Tuesday, January 11, 2011 and is filed under
CoC
,
Cthulhu
,
RPG
. You can follow any responses to this entry through the
comments feed
.