Most anniversaries are marked with champagne, flowers, and wordy cards. My first wedding anniversary, which my wife and I celebrated yesterday, was marked with all those things but also with two really awesome gifts.

Now I must confess that my wife really outdid me as far as anniversary gifts. While I got her all of the above and more she got me two board games I have been itching to play for some time now, Arkham Horror and Battles of Westeros.


For those of you not familiar with Arkham Horror, it is a Call of Cthulhu board game by Fantasy Flight. It has garnered stellar reviews from just about everywhere and currently sits as #52 at Board Game Geeks' top board games list.
My group is set to make our first jaunt into the Cthulhu Mythos with the Professor's new Call of Cthulhu (6th edition) game, so the game has arrived just in time to serve as kind of a warm-up into the genre. Also I've been reading a good deal of Lovecraft so as to be ready for the new campaign, so I'm doubly excited to give this game a shot.
I'll post my initial impressions after trying her out. Expectations couldn't be higher for me and my whole group. Normally that is the kiss of death with things, but I think this game has what it takes to measure up.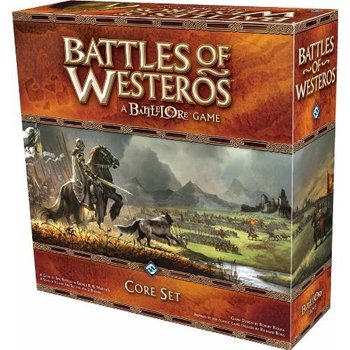 Those who are even casual readers of this site know that I am a HUGE fan of George R. R. Martin and his 'A Song of Ice and Fire' series. Battles of Westeros is the newest game in one some call the "Command and Colors Line." Command and Colors game rise to Memoir '44, which gave rise to Battle Lore, which gave rise to Battles of Westeros.
By all accounts BattleLore is an amazing game, and one I really want to try, but many people feel that Battles of Westeros is an even better game. It removes the magic element from the game and instead goes for a more realistic medieval style war scenario with focus on Generals and their ability to control the field.
I'm almost as excited for BoW as I am for AH. Which game is better? Only time will tell, but you'll sure hear my opinion on the situation in the coming weeks.